X-ray image of the XXL-South Field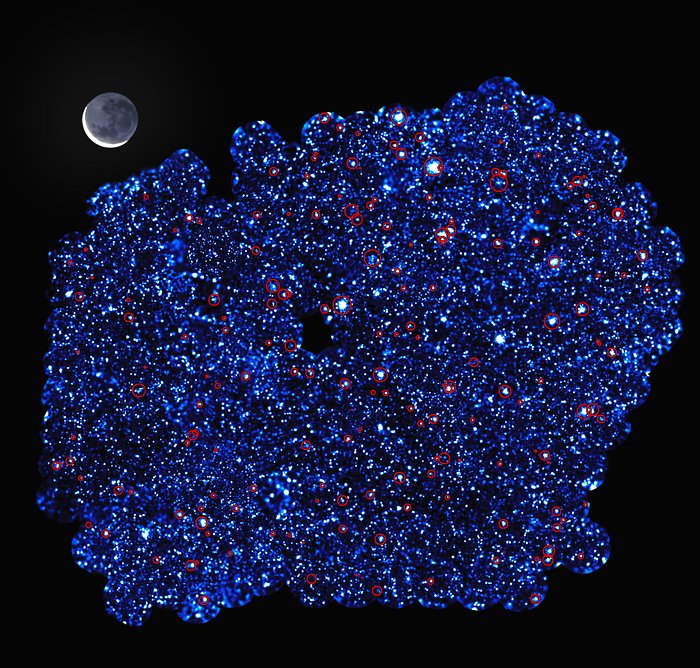 This image shows XXL-South Field (or XXL-S), one of the two fields observed by the XXL survey.
XXL is one of the largest quests for galaxy clusters ever undertaken and provides by far the best view of the deep X-ray sky yet obtained. The survey was carried out with ESA's XMM-Newton X-ray observatory. Additional vital observations to measure the distances to the galaxy clusters were made with ESO facilities.
The area shown in this image was obtained with some 220 XMM-Newton pointings and, if viewed on the sky, would have a two dimensional area a hundred times larger than the full Moon (which spans one half degree), and that is without taking into account the depth that the survey explores.
The red circles in this image show the clusters of galaxies detected in the survey. Along with the other field — XXL-North Field (or XXL-N) — around 450 of these clusters were uncovered in the survey, which mapped them back to a time when the Universe was just half of its present age.
The image also reveals some of the 12 000 galaxies that had very bright cores containing supermassive black holes that were detected in the field.
Credit:
ESA/XMM-Newton/XXL survey consortium/(S. Snowden, L. Faccioli, F. Pacaud)
About the Image
| | |
| --- | --- |
| Id: | eso1548a |
| Type: | Collage |
| Release date: | 15 December 2015, 12:00 |
| Related releases: | eso1548 |
| Size: | 1944 x 1854 px |
---
About the Object
---
Image Formats
Fullsize Original
Large JPEG
1.9 MB
Screensize JPEG
630.1 KB
---