French Involvement with the European Southern Observatory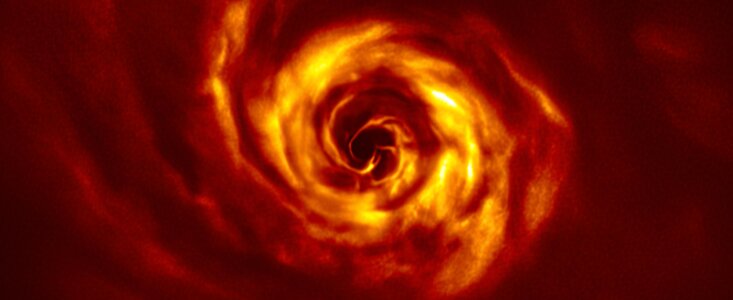 This image shows the disc around the young AB Aurigae star, where ESO's Very Large Telescope (VLT) has spotted signs of planet birth. The image was obtained with the VLT's SPHERE instrument in polarised light, by a team led by French researchers. Credit: ESO/Boccaletti et al.
France is a founding member of ESO. The country signed the original convention on 5 October 1962 and officially became a Member State on 17 January 1964. As a founder, the country's community of scientists and engineers has contributed to ESO projects in many key ways, from participating in scientific discoveries to contributing to the development of advanced instruments and telescopes for ESO facilities. 
France currently contributes 14.96% of ESO's revenue (2021 contribution), worth 28 728 000 EUR. 
As of mid 2022, there are 76 French nationals employed at ESO, 55 in Germany and 21 in Chile. Furthermore, ESO has awarded 33 studentships, 66 fellowships and 13 internships to French nationals since 2004. 
France is represented in the various ESO governing and advisory bodies by astronomers and policy experts; the current French representatives of ESO's various committees with national representation can be found here. 
The ESO Science Outreach Network (ESON) includes French representatives who act as ESO's media and outreach local contacts. 
Here follows some information about France's involvement with ESO. 
Discoveries by France-based astronomers using ESO telescopes 
French researchers and those based at French institutions have been involved in important discoveries using ESO facilities, including many of the ESO top 10 discoveries. More recent scientific discoveries include  
French involvement in ESO instruments and telescopes at ESO sites 
France has made and continues to make substantial contributions to many aspects of ESO, with French institutions behind many instruments based at telescopes on ESO sites. France is also behind some of the telescopes hosted at ESO sites. A few prominent examples of French involvement include 
French involvement in ELT instruments 
French institutions are part of the consortia for all of the first six instruments that will be installed on ESO's upcoming Extremely Large Telescope (ELT): 
French industry and technology contributions to ESO 
As one of the founding ESO Member States and a country with one of the more significant contributions to the ESO budget, French institutions and industry have been awarded several important ESO contracts over the years. Some of France's most significant technological contributions to ESO projects include 
The Paranal instrumentation adaptive optics systems which were developed and produced by French company ONERA. 
Winlight System SA which produced cameras for the ESPRESSO instrument 
French company ALPAO which supplied all the deformable mirrors to equip the auxiliary telescopes that form part of ESO's VLT Interferometer. 
The Observatoire de Bordeaux which was awarded multiple contracts to produce the digitizer and tunable filter bank card production for ALMA. 
Alcatel Space Industries which developed prototype antennas for ALMA, while the AEM Consortium developed the European ALMA antennas. 
French industry contributions to the ELT 
French companies have been key industrial partners of ESO's Extremely Large Telescope. A few of the most significant contracts awarded to French industry include 
Safran Reosc SAS which was awarded multiple contracts related to the ELT M1 segments polishing, ELT M2, M3 and M5 mirrors and auxiliary equipment, and the ELT M4 mirror shells. 
SAGEM SA which was awarded multiple contracts related to the procurement of ELT primary mirror segment prototypes. 
CILAS S.A. - Compagnie which conducted the design study for ELT M4 adaptive unit.
FIRST LIGHT IMAGING S.A.S. which provided the C-RED One Cameras for the ELT.