ALMA observes the birth of a monster star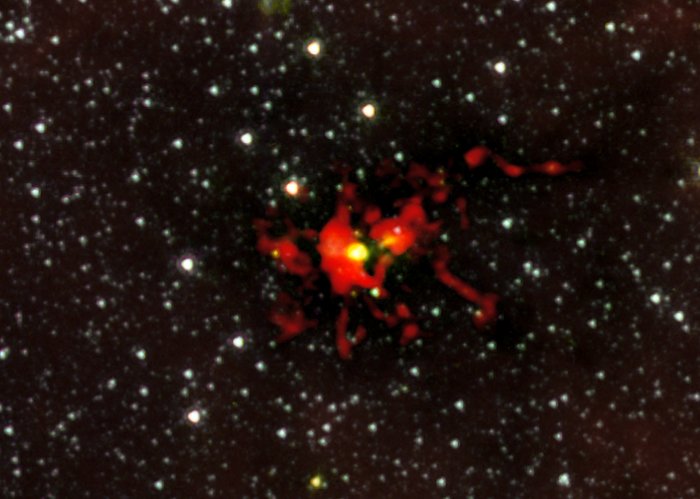 Observations of the dark cloud SDC 335.579-0.292 using the Atacama Large Millimeter/submillimeter array (ALMA) have given astronomers the best view yet of a monster star in the process of forming. A stellar womb with over 500 times the mass than the Sun has been found and appears as the yellow blob near the centre of this picture. This is the largest ever seen in the Milky Way — and it is still growing. The embryonic star within is hungrily feeding on the material that is racing inwards. It is expected to give birth to a very brilliant star with up to 100 times the mass of the Sun.
This image combines data from ALMA and NASA's Spitzer Space Telescope.
Credit:
ALMA (ESO/NRAJ/NRAO)/NASA/Spitzer/JPL-Caltech/GLIMPSE
About the Image
| | |
| --- | --- |
| Id: | eso1331a |
| Type: | Observation |
| Release date: | 10 July 2013, 12:00 |
| Related releases: | eso1331 |
| Size: | 1225 x 874 px |
---
About the Object
Name:
SDC 335.579-0.292
Type:
Milky Way : Nebula : Type : Star Formation
Distance:
11000 light years

Constellation:
Norma
Category:
Nebulae
Stars

---
Image Formats
Fullsize Original
Large JPEG
216.6 KB
Screensize JPEG
131.9 KB
---
Zoomable
---
Wallpapers
---
Coordinates
| | |
| --- | --- |
| Position (RA): | 16 31 1.43 |
| Position (Dec): | -48&deg 42' 32.98" |
| Field of view: | 6.14 x 4.38 arcminutes |
| Orientation: | North is 21.9° right of vertical |