Atoms-for-Peace: a galactic collision in action*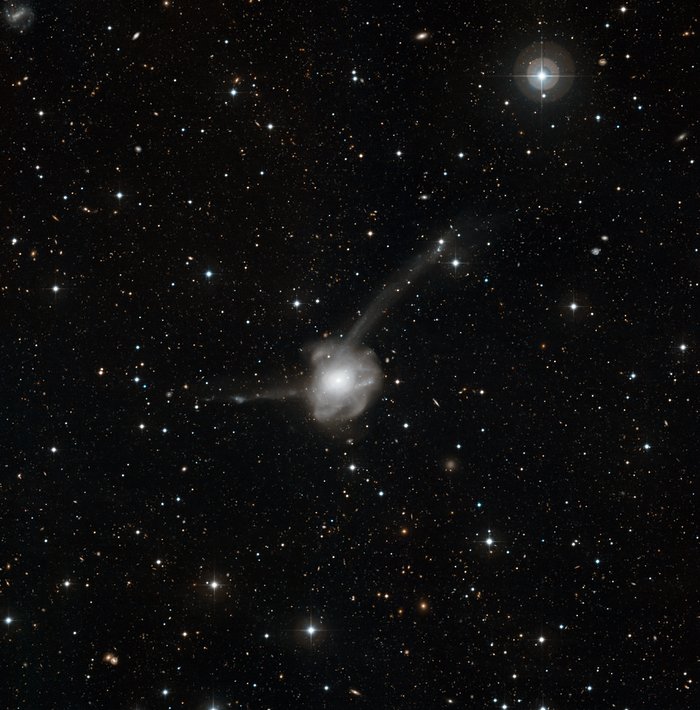 This new image shows the results of a vast collision between two galaxies. This strange object is known as NGC 7252, or Arp 226, and has the odd nickname Atoms-for-Peace. The picture was taken by the Wide Field Imager on the MPG/ESO 2.2-metre telescope at ESO's La Silla Observatory in Chile. It is a combination of exposures taken through blue and red filters, for a total exposure time of more than four hours. The field of view is about 18 arcminutes across.
This image is available as a mounted image in the ESOshop.
Credit:
About the Image
| | |
| --- | --- |
| Id: | eso1044a |
| Type: | Observation |
| Release date: | 10 November 2010, 12:00 |
| Related releases: | eso1044 |
| Size: | 4473 x 4536 px |
---
About the Object
---
Mounted Image
Buy in shop
Image Formats
---
Zoomable
---
Wallpapers
---
Coordinates
| | |
| --- | --- |
| Position (RA): | 22 20 42.06 |
| Position (Dec): | -24&deg 39' 54.56" |
| Field of view: | 17.74 x 17.99 arcminutes |
| Orientation: | North is 1.6° right of vertical |