Announcement
All ESO Outreach Products in One
First edition of the ESOshop catalogue launched
22 January 2014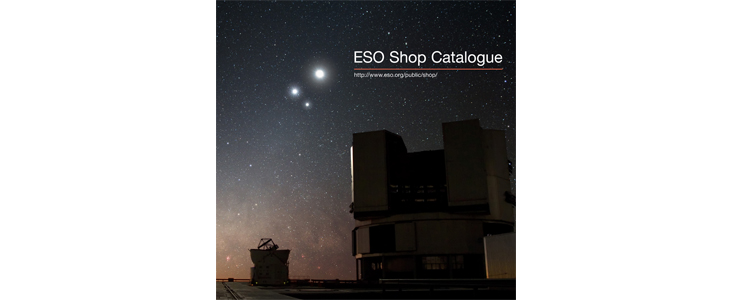 The first edition of the ESOshop catalogue has been launched — a catalogue in PDF format that brings together the entire collection of outreach material and merchandise made available by the European Southern Observatory in an easier format to browse. From educational material to branded fleece jackets, books, DVDs and mounted images, the catalogue brings to light educational products, as well as starry gift ideas for those passionate about astronomy.
Our cost policy in the ESOshop is one of no additional charges. The shop is not-for-profit, and almost all our products can be downloaded as PDF's for free. The online prices cover the production cost and the handling work invested in making the products available to you. This makes it possible for us to deliver high quality products at reasonable prices.
For re-sellers we have special bulk rates, depending on the amount ordered. A complete list of bulk rates can be found at the end of this catalogue. Orders should be placed via email at distribution@eso.org. We do not charge any extra fees for reselling our products, nor do we impose a set price.
For co-promotion opportunities, magazine inserts and other collaboration ideas, we invite you to reach out to our community coordinator at osandu@partner.eso.org.
As all of our online images and videos are released under the Creative Commons Attribution 3.0 License, we encourage you to use them in creating your own products, should you think of something we do not have available in our shop. Please keep us informed at information@eso.org.
Happy shopping!
Links
Contacts
Oana Sandu
Community Coordinator
The education and Public Outreach Department
Tel: +49 89 320 069 65
Email: osandu@partner.eso.org