Announcement
ESO Astronomy News for Kids on your Android Phone
EU UNAWE launches Space Scoop app
8 November 2013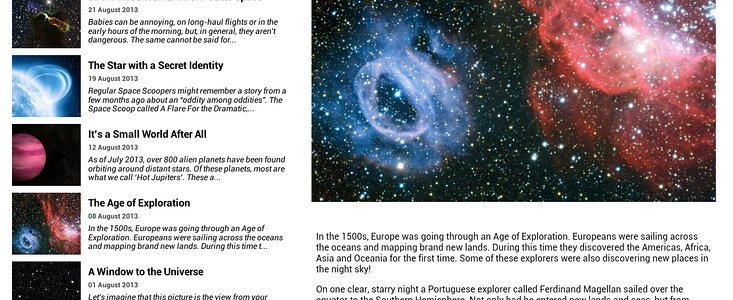 Universe Awareness (UNAWE) has released a new Space Scoop App for Android users, offering access to the latest astronomy news — whenever it happens, wherever you are! Space Scoop is an astronomy news service for children aged eight and above that aims at sharing exciting new astronomical discoveries with them. ESO was among the first astronomy institutions that joined up with this service and had its press releases translated into "kids language".
The Space Scoop Android app is designed to share the most exciting new astronomical discoveries with children in the hope of inspiring them to develop an interest in science and technology. The concept design and development was lead by UNAWE Romania's project manager, Cătălina Movileanu, and her team in partnership with company TAGonSoft.
Almost 200 child-friendly news articles are already available in 22 languages, and up to two new stories will be added each week. ESO's online press releases also have a link to the Space Scoop version of the news item above the "Choose your language" bar, above the title.
The app is available for free download on the Google Play store.
Links
Contacts
Oana Sandu
Community Coordinator
The education and Public Outreach Department
Tel: +49 89 320 069 65
Email: osandu@partner.eso.org