Announcement
Win Tickets for the Hidden Universe IMAX® Movie in Copenhagen and Cleveland
4 July 2013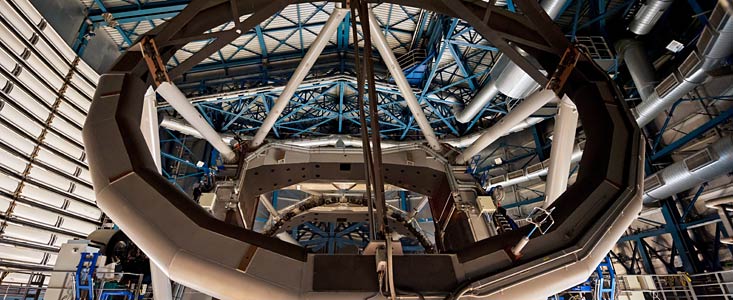 ESO, in collaboration with MacGillivray Freeman Films, the Tycho Brahe Planetarium in Copenhagen, Denmark, and Great Lakes Science Center in Cleveland, Ohio, USA, is organising a competition that gives Twitter users the chance to win free entrance tickets for themselves and their family or friends to the IMAX® production Hidden Universe. Winners can see the movie in 2D at Great Lakes Science Center and at the Tycho Brahe Planetarium.
Released in IMAX® theatres and giant-screen cinemas around the globe, the film shows the workings of ESO's state-of-the-art telescopes in high resolution time-lapse, as well as mesmerising celestial structures and a simulation of the Universe. Narrated by Golden Globe and BAFTA Award-winning British actress, Miranda Richardson, the movie is produced by Australia's award-winning production company December Media in association with ESO, Film Victoria, Swinburne University of Technology and MacGillivray Freeman Films. Read more about the movie here.
The competition runs from today, 4 July 2013 until 8 July 2013. Here is the challenge! To win one free entrance ticket for you and up to four other family members or friends, follow @ESO and send us a tweet with the hashtag #ESOIMAXdk if you live near the planetarium in Copenhagen or #ESOIMAXus if you live near Great Lakes Science Center in Cleveland, telling us why we should pick you!
ESO will announce the winners on 9 July 2013 via Twitter. Tickets may be picked up and remain valid for up to a maximum of two weeks starting 9 July. ESO, the Tycho Brahe Planetarium and Great Lakes Science Center are only offering the entrance tickets. Travel and other expenses are to be covered by the winning participants. Please make sure you can reach these locations before entering the competition. ESO's decision on the winners is final.
Links
Contacts
Oana Sandu
Community Coordinator
The education and Public Outreach Department
Tel: +49 89 320 069 65
Email: osandu@partner.eso.org