Announcement
Around the World in 80 Telescopes is first runner up in IYA2009/Mani Bhaumik Prize for Excellence in Astronomy Education and Public Outreach
26 February 2010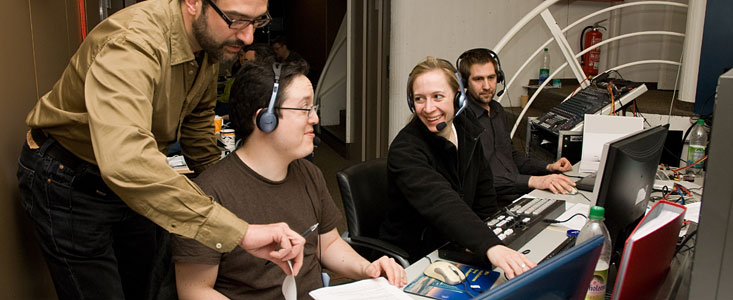 The Around the World in 80 Telescopes webcast has been awarded the first runner-up position in the IYA2009/Mani Bhaumik Prize for Excellence in Astronomy Education and Public Outreach.
Around the World in 80 Telescopes was a record-breaking and unprecedented, live, 24-hour public webcast featuring most of the research-grade astronomical observatories both on and off the planet. During the webcast, astronomers at observatories around the world talked about their work and presented exclusive images and video. It was part of the 100 Hours of Astronomy Global Cornerstone project of the International Year of Astronomy 2009. The webcast was coordinated and executed by the ESO education and Public Outreach Department, and hosted from the ESO Headquarters in Garching, Germany.
"We are delighted and honoured that Around the World in 80 Telescopes has been recognised in this way, and we also thank and congratulate all the observatories around the world that took part. They were the true stars of the webcast," said project leader Douglas Pierce-Price.
The webcast was part of the 100 Hours of Astronomy event, which ran from 2–5 April 2009, organised jointly by Astronomers Without Borders and ESO. For this reason, ESO has chosen to donate half of its portion of the prize money to Astronomers Without Borders in order to support its mission of "fostering understanding and goodwill across national and cultural boundaries by creating relationships through the universal appeal of astronomy". A major goal of the Around the World in 80 Telescopes webcast was to show people the global nature of the astronomical community, and this fits very well with the goals of Astronomers Without Borders.
More info
The 24-hour webcast ran from 09:00 UT on 3 April 2009 to just after 09:00 UT on 4 April 2009.
Links
Contacts
Douglas Pierce-Price
ESO ePOD
Phone: +49 89 3200 6759
E-mail: dpiercep@eso.org