eso1829 — Organisation Release
€17 Million Fund to Power European Detection and Imaging Innovation
5 September 2018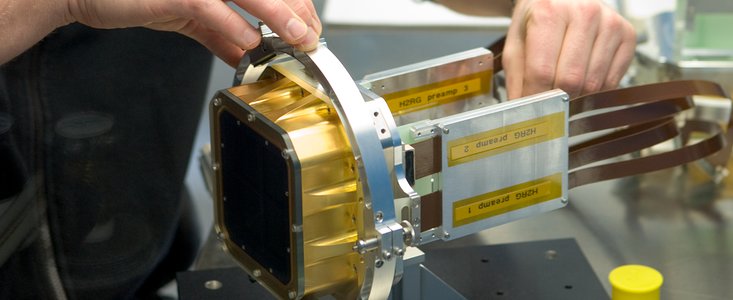 The pioneering ATTRACT initiative couples world-class research laboratories and business management experts to create a European innovation ecosystem that will accelerate the development of disruptive technologies and their progress to market. The initiative, in which ESO is a partner, will fund 170 breakthrough detection and imaging ideas with market potential, and aims to create products, services, companies and jobs based on new detection and imaging technologies.
To trigger disruptive innovation, the ATTRACT project will commit €17 million as seed funding for 170 projects developing breakthrough detection and imaging technologies in Europe.
ESO builds and operates a suite of the world's most advanced ground-based astronomical telescopes, and thus relies on cutting-edge detection and imaging technology. As a partner in the ATTRACT, ESO stands to benefit from detector breakthroughs fostered by the ATTRACT project.
"The process of developing new science into technologies that enable breakthrough innovation often happens by chance. ATTRACT aims to create and deploy mechanisms and a permanent pipeline for systematically achieving such transformation," says Henry Chesbrough, who coined the term "Open Innovation" and is a special advisor to ATTRACT. "In contrast to incremental innovation, which generates reactive or adaptive responses to a problem, breakthrough innovation is driven by a desire to anticipate emerging or future needs."
The ATTRACT seed fund is open to researchers and entrepreneurs from organisations all over Europe. The call for proposals is already open and will collect breakthrough ideas until 31 October 2018. A high-level, independent Research, Development and Innovation Committee will evaluate proposals and select those to be funded based on a combination of their scientific merit, innovation readiness and potential societal impact. The successful proposals will be announced in early 2019.
The 170 breakthrough projects funded by ATTRACT will have one year to develop their ideas. During this phase, business and innovation experts from the ATTRACT Project Consortium's Aalto University, EIRMA and ESADE Business School will help project teams explore how their disruptive technology can be transformed into breakthrough innovations with strong market potential.
Most scientific advances, technical applications, commercially worthwhile products and businesses targeting emerging societal challenges rely on detection and imaging technologies in some way. Disruptive innovations emerging from ATTRACT will trigger transformations that will have real impact on people's lives.
Examples of future applications for society could include: portable scanners for out-patient treatment; sensors to help the visually impaired navigate the world more easily; networks of sensors to make agriculture more productive and less energy-intensive; smarter use of monitoring and big data analysis to make factories work more efficiently; better forms of online learning; and new ways to accurately monitor climate change.
Led by the European Organization for Nuclear Research (CERN), the ATTRACT initiative involves the European Molecular Biology Laboratory (EMBL), the European Southern Observatory (ESO), the European Synchrotron Radiation Facility (ESRF), the European XFEL, Institut Laue-Langevin (ILL), Aalto University, the European Industrial Research Management Association (EIRMA) and ESADE. The initiative is funded by the European Union's Horizon 2020 research and innovation programme.
More information
ATTRACT is a pioneering initiative bringing together Europe's fundamental research and industrial communities to lead the next generation of detection and imaging technologies. Funded by the European Union's Horizon 2020 programme, the project aims to help revamp Europe's economy and improve people's lives by creating products, services, companies and jobs. More information is available at www.attract-eu.com
State-of-the-art detection and imaging technologies form the cornerstone of several industrial sectors, including information and communications technology, energy, process industries, manufacturing, aeronautics, medicine, robotics, space and transport. These technologies drive an annual market of over €100 billion (Frost & Sullivan Report, "Top Technologies in Sensors & Control").
The market for medical imaging and radiation detectors is worth €21 billion a year.
Satellite imaging is a €2 billion market, and is expected to experience a compound annual growth rate of 14.2% from 2018 to 2023.
Open data can unlock over €2.7 trillion in value.
The ICT sector represents 4% of the EU's GDP, and includes technologies such as advanced manufacturing, robotic arms, remote sensors, and opto-mechanical assemblies.
European research already excels in these areas. The availability of ATTRACT funding will accelerate the development of breakthrough solutions, as well as improving Europe's return on its scientific investment by capturing the interest of private investors — business angels, venture capital firms and corporate investors. ATTRACT will also create multiple ways in which private investment can get involved in supporting the resultant businesses, thus creating economic growth for years to come.
ESO is the foremost intergovernmental astronomy organisation in Europe and the world's most productive ground-based astronomical observatory by far. It has 15 Member States: Austria, Belgium, the Czech Republic, Denmark, France, Finland, Germany, Italy, the Netherlands, Poland, Portugal, Spain, Sweden, Switzerland and the United Kingdom, along with the host state of Chile and with Australia as a Strategic Partner. ESO carries out an ambitious programme focused on the design, construction and operation of powerful ground-based observing facilities enabling astronomers to make important scientific discoveries. ESO also plays a leading role in promoting and organising cooperation in astronomical research. ESO operates three unique world-class observing sites in Chile: La Silla, Paranal and Chajnantor. At Paranal, ESO operates the Very Large Telescope and its world-leading Very Large Telescope Interferometer as well as two survey telescopes, VISTA working in the infrared and the visible-light VLT Survey Telescope. ESO is also a major partner in two facilities on Chajnantor, APEX and ALMA, the largest astronomical project in existence. And on Cerro Armazones, close to Paranal, ESO is building the 39-metre Extremely Large Telescope, the ELT, which will become "the world's biggest eye on the sky".
Links
Contacts
Virginia Mercouri
Media Adviser
Science|Business
Tel: + 32 489 095 044
Email: virginia.mercouri@sciencebusiness.net
Anna Alsina Bardagí
Research Impact Manager
ESADE Business School
Tel: +34 690 957 506
Email: anna.alsina@esade.edu
Lars Lindberg Christensen
Head of the education and Public Outreach Department
European Southern Observatory
Tel: +49 89 320 06 761
Cell: +49 173 38 72 621
Email: lars@eso.org