Spiral galaxy NGC 1232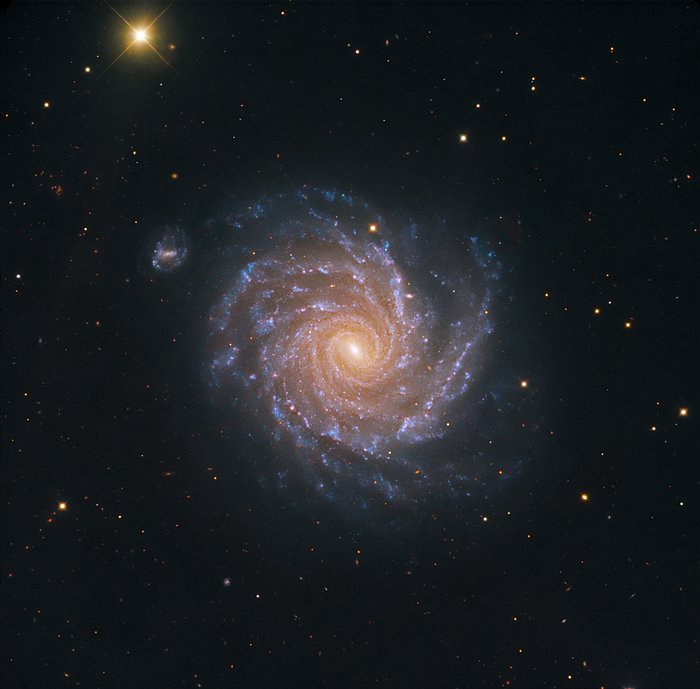 The striking, large spiral galaxy NGC 1232, and its distorted companion shaped like the greek letter "theta".
The pair is located roughly 60 million light-years away in the constellation Eridanus (The River). Billions of stars and dark dust are caught up in this beautiful gravitational swirl. The blue spiral arms with their many young stars and star-forming regions make a striking contrast with the yellow-reddish core of older stars.
This image is based on data acquired with the 1.5 m Danish telescope at the ESO La Silla Observatory in Chile, through three filters (B: 900 s, V: 400 s, R: 400 s).


Credit:
ESO/IDA/Danish 1.5 m/R.Gendler and A. Hornstrup.
About the Image
| | |
| --- | --- |
| Id: | ngc1232b |
| Type: | Observation |
| Release date: | 3 December 2009, 23:18 |
| Size: | 2057 x 2025 px |
---
About the Object
---
Image Formats
Fullsize Original
Large JPEG
940.6 KB
Screensize JPEG
159.7 KB
---
Zoomable
---
Wallpapers
---
Coordinates
| | |
| --- | --- |
| Position (RA): | 3 9 52.34 |
| Position (Dec): | -20&deg 34' 21.93" |
| Field of view: | 13.55 x 13.34 arcminutes |
| Orientation: | North is 45.0° right of vertical |