Motion of gas in SPT0418-47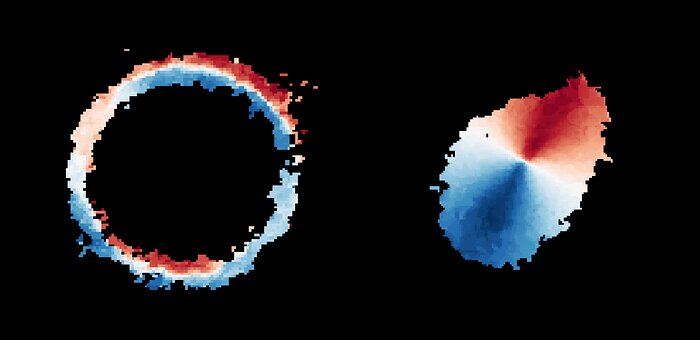 Astronomers using ALMA, in which the ESO is a partner, have revealed an extremely distant galaxy that looks surprisingly like our Milky Way. The galaxy, SPT0418-47, is gravitationally lensed by a nearby galaxy, appearing in the sky as a near-perfect ring of light (left). The research team reconstructed the distant galaxy's true shape and the motion of its gas (right) from the ALMA data using a new computer modelling technique. The observations indicate that SPT0418-47 is a disc galaxy with a central bulge and the material in it rotates around the centre. Gas moving away from us is shown in red, while gas moving in the direction of the observer is shown in blue.
Credit:
 ALMA (ESO/NAOJ/NRAO), Rizzo et al.
About the Image
| | |
| --- | --- |
| Id: | eso2013c |
| Type: | Collage |
| Release date: | 12 August 2020, 17:00 |
| Related releases: | eso2013 |
| Size: | 1762 x 855 px |
---
About the Object
| | |
| --- | --- |
| Name: | SPT0418-47 |
| Type: | Early Universe : Cosmology : Phenomenon : Lensing |
| Category: | Galaxies |
---
Image Formats
Fullsize Original
Large JPEG
137.9 KB
Screensize JPEG
67.5 KB
---
Zoomable
---
Wallpapers
---