The Flying Saucer protoplanetary disc around 2MASS J16281370-2431391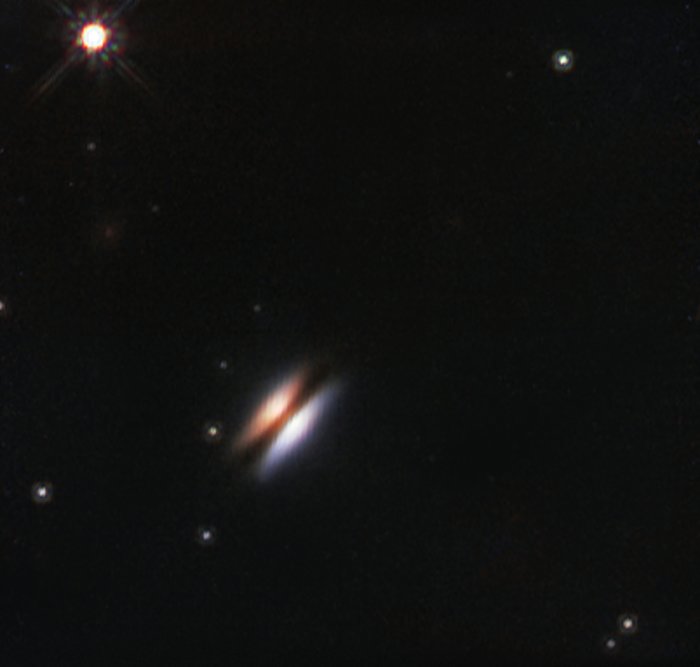 The young star 2MASS J16281370-2431391 lies in the spectacular Rho Ophiuchi star formation region, about 400 light-years from Earth. It is surrounded by a disc of gas and dust — such discs are called protoplanetary discs as they are the early stages in the creation of planetary systems. This particular disc is seen nearly edge-on, and its appearance in visible light pictures has led to its being nicknamed the Flying Saucer.
This close-up infrared view of the Flying Saucer comes from the NASA/ESA Hubble Space Telescope.
Credit:
About the Image
| | |
| --- | --- |
| Id: | eso1604b |
| Type: | Observation |
| Release date: | 3 February 2016, 12:00 |
| Related releases: | eso1604 |
| Size: | 402 x 383 px |
---
About the Object
---
Image Formats
Fullsize Original
Large JPEG
30.6 KB
Screensize JPEG
77.8 KB
---
Zoomable
---
Wallpapers
---
Coordinates
| | |
| --- | --- |
| Position (RA): | 16 28 13.47 |
| Position (Dec): | -24&deg 31' 38.73" |
| Field of view: | 0.33 x 0.32 arcminutes |
| Orientation: | North is 46.3° left of vertical |