HAWK-I image of NGC 4030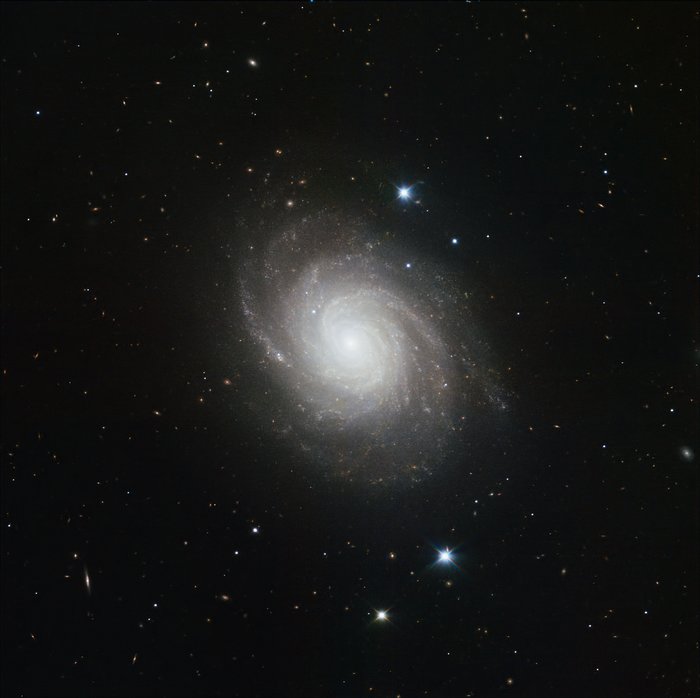 This spiral galaxy, NGC 4030, lies about 75 million light-years from Earth, in the constellation of Virgo. In 2007 Takao Doi, a Japanese astronaut who doubles as an amateur astronomer, spotted a supernova — a stellar explosion that is briefly almost as bright as its host galaxy — going off in this galaxy.
The image was made in infrared light with the HAWK-I camera on ESO's Very Large Telescope at Paranal Observatory in Chile. HAWK-I is one of the most powerful infrared imagers in the world, and this is one of the sharpest and most detailed pictures of this galaxy ever taken from Earth. The filters used were Y (shown here in blue), J (in green), H (in orange), and K (in red). The field of view of the image is about 6.4 arcminutes across.
Credit:
About the Image
| | |
| --- | --- |
| Id: | eso1042e |
| Type: | Observation |
| Release date: | 27 October 2010, 12:00 |
| Related releases: | eso1042 |
| Size: | 3654 x 3643 px |
---
About the Object
---
Image Formats
Fullsize Original
Large JPEG
5.1 MB
Screensize JPEG
127.2 KB
---
Zoomable
---
Wallpapers
---
Coordinates
| | |
| --- | --- |
| Position (RA): | 12 0 23.69 |
| Position (Dec): | -1&deg 5' 59.13" |
| Field of view: | 6.48 x 6.46 arcminutes |
| Orientation: | North is 0.2° right of vertical |