HAWK-I image of Messier 100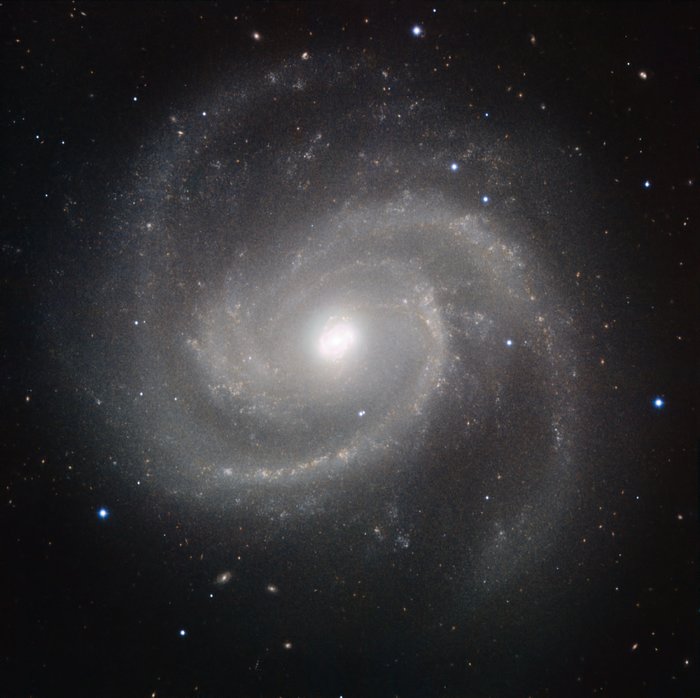 This galaxy is Messier 100, also known as NGC 4321, which was discovered in the18th century. About 55 million light-years from Earth, Messier 100 is part of the Virgo Cluster of galaxies and lies in the constellation of Coma Berenices (Berenice's Hair, named after the ancient Egyptian queen Berenice II).
The image was made in infrared light with the HAWK-I camera on ESO's Very Large Telescope at Paranal Observatory in Chile. HAWK-I is one of the most powerful infrared imagers in the world, and this is one of the sharpest and most detailed pictures of this galaxy ever taken from Earth. The filters used were Y (shown here in blue), J (in cyan), H (in orange), and K (in red). The field of view of the image is about 6.4 arcminutes.
Credit:
About the Image
| | |
| --- | --- |
| Id: | eso1042c |
| Type: | Observation |
| Release date: | 27 October 2010, 12:00 |
| Related releases: | eso1042 |
| Size: | 3650 x 3639 px |
---
About the Object
---
Image Formats
Fullsize Original
Large JPEG
6.5 MB
Screensize JPEG
185.5 KB
---
Zoomable
---
Wallpapers
---
Coordinates
| | |
| --- | --- |
| Position (RA): | 12 22 55.38 |
| Position (Dec): | 15&deg 49' 40.95" |
| Field of view: | 6.48 x 6.46 arcminutes |
| Orientation: | North is 1.6° right of vertical |