Announcement
ESO Releases The Messenger No. 143
21 March 2011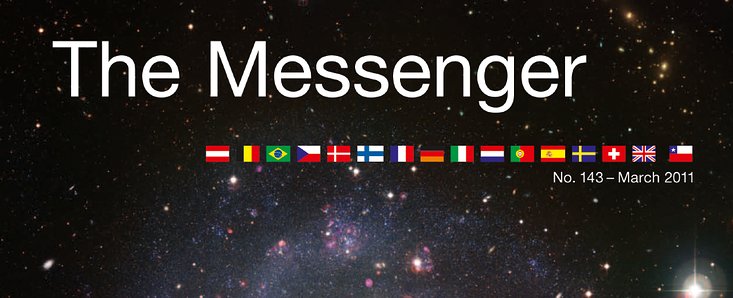 The latest edition of the European Southern Observatory's quarterly journal, The Messenger, has been published. This issue features articles covering various ESO instruments and projects, including:
A report on the results of ALMA radiometer testing — checking the array's ability to correct the effect of water vapour on millimetre wavelength detections.
An outline of the possibilities and goals for the upcoming VLTI astrometry instrument GRAVITY.
A discussion on how we can use the strong appearance of ozone in the visible spectrum to hunt for exoplanets with Earth-like atmospheres.
An article looking at how the SINFONI Integral Field Spectroscopy Survey will help us to understand how galaxies form.
The results of the ESO Hidden Treasures astrophotography competition.
The journal is available for download in PDF format. You can also subscribe to receive a free printed copy on The Messenger's website.
Links
Interactive view: click on the arrows to flip the pages, or on the cover image to view it in fullscreen size.