Announcement
Paranal Residencia one of the "Top 10 Buildings of the Decade"
10 December 2009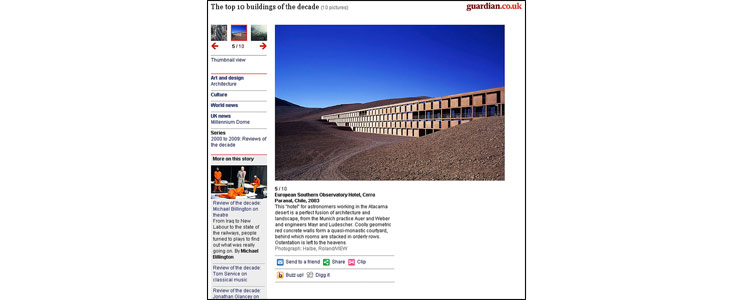 ESO's Residencia at Paranal Observatory, Chile, has just been selected to be among the "top 10 buildings of the decade" by the UK's Guardian newspaper. Cerro Paranal is a 2600-metre high mountain in the Chilean Atacama Desert, perhaps the driest on Earth. It is the home of ESO's Very Large Telescope, the most advanced observatory in the world.
The high altitude site and extreme dryness make excellent conditions for astronomical observations, but this comes at a price. To make it possible for people to live and work here, a hotel, or Residencia, was built at base camp, allowing staff to escape from the arid outside environment. The award-winning design by the architects Auer & Weber includes an enclosed tropical garden and pool under a futuristic a 35-metre domed roof and is based on a subterranean L-shape. Perfectly integrated into the Mars-like landscape of Paranal so as to make as little difference to astronomical observations as possible, this singular building provided a unique backdrop for the climax of the latest James Bond movie, Quantum of Solace.