Announcement
Opening of 3D Movie Featuring ESO's Paranal Observatory
26 October 2009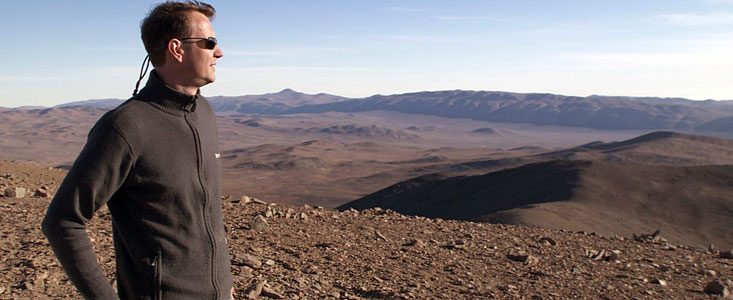 In close cooperation with ESO as part of its International Year of Astronomy 2009 activities, the production companies parallax raumprojektion and fact&film have produced a unique 3D documentary about the most powerful visible-light telescope in the world, ESO's Very Large Telescope (VLT). One of the world's largest telescopes, capable of taking some of the sharpest pictures of the night sky, the VLT is located in a breathtaking, arid environment, providing astronomers with superb sky conditions as they study the deep Universe.
The film, The EYE 3D — Life and Research on Cerro Paranal, stars the young scientist and ESOcast host Dr J, aka Joe Liske. In June 2009, a German film crew who specialise in making 3D movies accompanied Dr J on a trip from ESO Headquarters in Garching, Germany, to the landscapes of the Atacama Desert in the North of Chile, one of the driest sites on Earth and home to the VLT observatory.
Along with stunning views of the telescopes and clear explanations of how such a technical masterpiece functions, the movie also follows the lives of people at Paranal: astronomers, engineers, physicists and technicians, showing just how everyone's work at the VLT contributes not only to the acquisition of astonishing pictures of the Universe, but also to cutting-edge research about our cosmic origins. The movie is aimed at a broad audience, from schoolchildren to science scholars. Its extraordinary 3D technique gives viewers a real sense of being in the middle of the action, taking them on virtual tours inside the huge telescope domes or for a walk in the desert with Dr J.
The film was co-financed by the film subsidy agencies of the German federal states of Baden-Württemberg and Bremen, several charitable and public organisations and ESO. It has been appointed Special Project of the International Year of Astronomy.
The EYE 3D, directed by Nikolai Vialkowitsch, will have its world premiere on Wednesday 28 October 2009 at the Film Festival in Biberach, Germany. It will be shown in 3D theatres across Germany from 29 October 2009 and all over Europe later this year. An international version in English language is available, and further translations in other European languages are in production.
Links
Contacts
Lars Lindberg Christensen
ESO, Garching, Germany
Tel: +49-89-3200-6761
Cell: +49-173-3872-621
E-mail: lars@eso.org
Nikolai Vialkowitsch
parallax raumprojektion, Karlsruhe
Tel: +49 (0) 721 / 62 76 741
E-Mail: Niko.Vialkowitsch@email-dienste.de