Announcement
Senior Chilean Delegation Visits ESO Headquarters
24 June 2013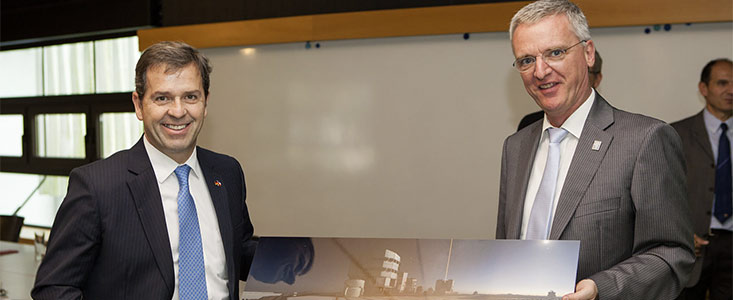 Today, 24 June 2013, a delegation of Chilean representatives visited ESO's Headquarters in Garching bei München, Germany. It was led by the Chilean Minister for Economy, Mr. Félix de Vicente, and included the Chilean ambassador to Germany, Mr. Jorge O'Ryan Schütz.
The Chilean Delegation also included the Director of ProChile Germany, Ms Bettina Stengel, the Vice-President of the Committee of Foreign Investments, Mr Matías Mori, and the Head of Cabinet of the Minister of Economy, Juan José Bouchon.
Following their visit to ESO, the Chilean Delegation will also participate in an event entitled "Chile neu entdecken" organised by the Chamber of Commerce and Industry for Munich and Upper Bavaria.
ESO enjoys excellent relations with Chile and has a long and fruitful history of collaboration with Chile's government, universities and industry. Chile is a crucial partner in ESO's activities, hosting all of ESO's observatories and the ESO premises in Santiago de Chile.
Contacts
Richard Hook
ESO
Garching bei München, Germany
Tel: +49 89 3200 6655
Cell: +49 151 1537 3591
Email: rhook@eso.org