ESO's Extremely Large Telescope
The world's biggest eye on the sky
Extremely large telescopes are considered worldwide to be one of the highest priorities in ground-based astronomy. They will vastly advance astrophysical knowledge, allowing detailed studies of subjects including planets around other stars, the first objects in the Universe, supermassive black holes, and the nature and distribution of the dark matter and dark energy which dominate the Universe.
Since 2005 ESO has been working with its community and industry to develop an extremely large optical/infrared telescope.
Named the ELT — for Extremely Large Telescope — this revolutionary new ground-based telescope concept will have a 39-metre main mirror and will be the largest optical/near-infrared telescope in the world: "the world's biggest eye on the sky".
Astronomy is experiencing a golden era. The past decade alone has brought amazing discoveries that have excited people from all walks of life, from finding planets around Proxima Centauri, the nearest star to the Sun, to the first image of a black hole.
The ELT is a novel ground-based telescope concept with a performance that is orders of magnitude better than currently existing facilities. Equipped with the most advanced instruments, such a telescope may, eventually, revolutionise our perception of the Universe, much as Galileo's telescope did 400 years ago.
The ELT programme was approved in 2012 and green light for construction at Cerro Armazones was given at the end of 2014. The first stone ceremony for the telescope was attended by the President of Chile in May 2017. Dozens of Europe's most cutting-edge companies are participating in the construction. First light is targeted for 2025.
First ELT Main Mirror Segments Successfully Cast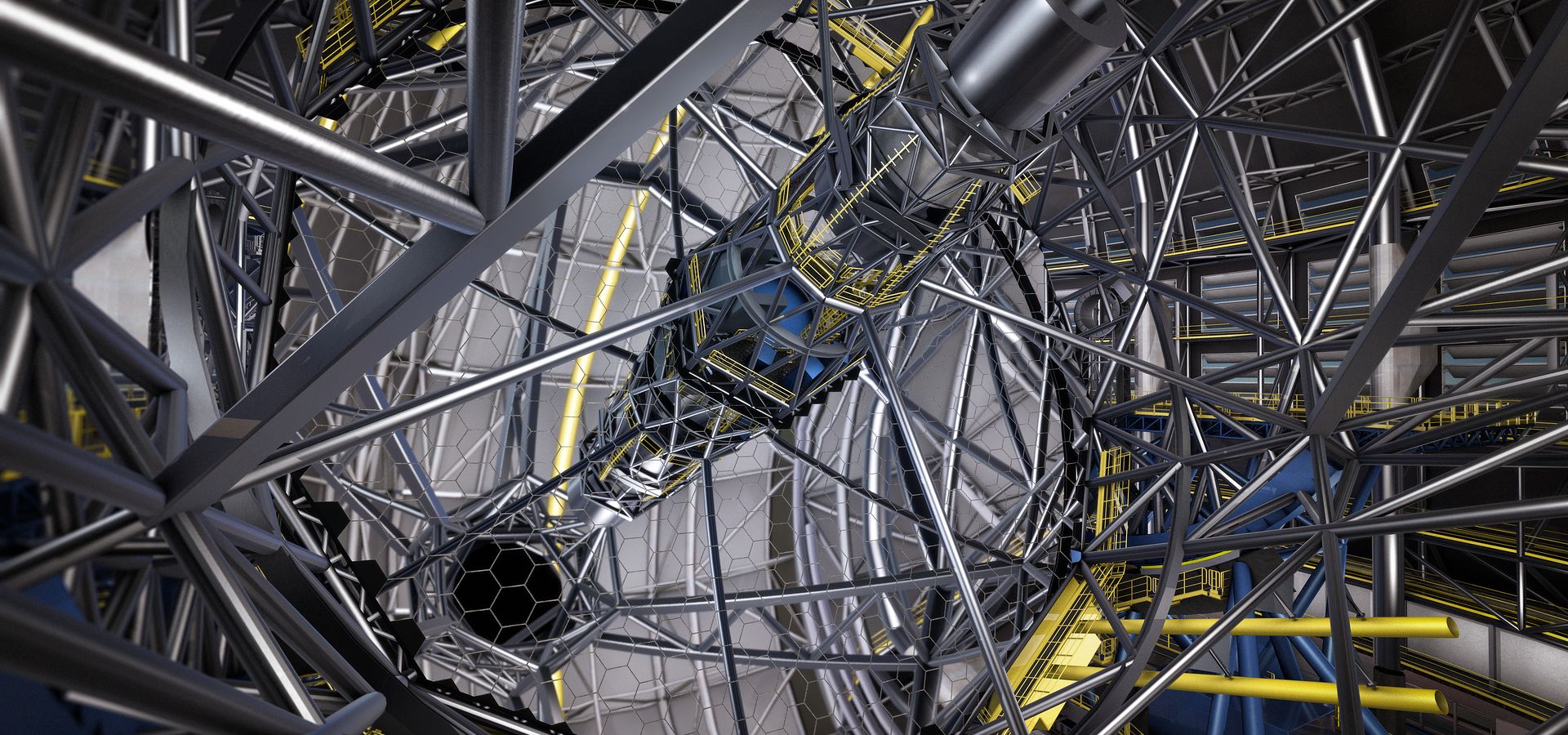 ESO Signs Contracts for the ELT's Gigantic Primary Mirror
First Stone Ceremony for ESO's Extremely Large Telescope
Secondary Mirror of ELT Successfully Cast
Contracts Signed for ELT Mirrors and Sensors
Live image
LIVE
Follow the progress on Cerro Armazones via this live image taken from Cerro Paranal. It is updated every hour during daytime. Click on it to enlarge.
A Tour of Paranal and Cerro Armazones
Virtual Tour of Paranal and Cerro Armazones
Read more about the ELT
Watch the ESOcast
Download ESOcast 176: Building the Biggest Optical Telescope in the World in the video archive.
ELT
For more detailed information, please see our technical pages.
| | |
| --- | --- |
| Name: | Extremely Large Telescope |
| Site: | Cerro Armazones |
| Altitude: | 3046 m |
| Enclosure: | Hemispherical dome |
| Type: | Optical/near-infrared extremely large telescope |
| Optical design: | Five-mirror design — three-mirror on-axis anastigmat + two fold mirrors used for adaptive optics |
| Diameter. Primary M1: | 39 m (798 hexagonal 1.4 m mirror segments) |
| Material. Primary M1: | Zerodur® |
| Diameter. Secondary M2: | 4 m |
| Material. Secondary M2: | Zerodur® |
| Diameter. Tertiary M3: | 3.75 m |
| Diameter. M4: | 2.4 m |
| Diameter. M5: | 2.7 x 2.1 metres |
| Mount: | Alt-Azimuth mount |
| First Light date: | 2025 |
| Active Optics: | Yes |
| Adaptive Optics: | 2.60 m adaptive M4 using 6 Laser Guide Stars |
| Images taken with the ELT: | Link |
| Images of the ELT: | Link |
| Videos of the ELT: | Link |
| Press Releases with the ELT: | Link |