Supermoon beckons in the new year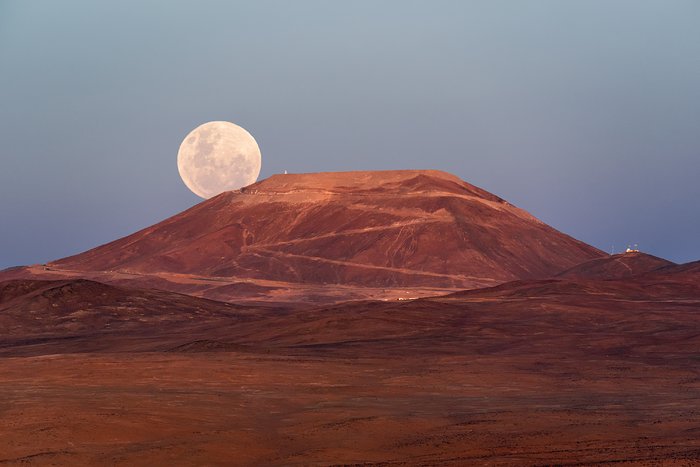 The first evening of the new year was beckoned in by a spectacular supermoon, rising up from behind the majestic Cerro Armazones mountain in Chile. A supermoon like this is a magnificent, albeit relatively frequent, occurrence which takes place when a full moon coincides with the point in the lunar orbit that is closest to Earth, its diameter appearing about 14% larger in the sky.
The road zigzagging up Cerro Armazones appears to lead directly to the Moon itself — truly making it a road to the stars. By 2024, the "world's biggest eye on the sky" will rest on top of this mountain, as its peak will be home to the Extremely Large Telescope. At an altitude of 3046 metres, Cerro Armazones provides a spectacular environment for astronomical observations, in particular because it receives 320 clear nights per year.
This photo was captured by ESO Photo Ambassador Gerhard Hüdepohl. He walked two kilometres from ESO's nearby Paranal Observatory into the Atacama Desert to find the right position to take this photo. Beforehand, he had calculated the path the Moon would take to know the right time and place for this extraordinary shot.
Credit:
About the Image
| | |
| --- | --- |
| Id: | potw1802a |
| Type: | Photographic |
| Release date: | 8 January 2018, 06:00 |
| Size: | 6016 x 4016 px |
---
About the Object
---
Image Formats
---
Zoomable
---
Wallpapers
---