VLT snap of comet 67P/Churyumov-Gerasimenko in October 2013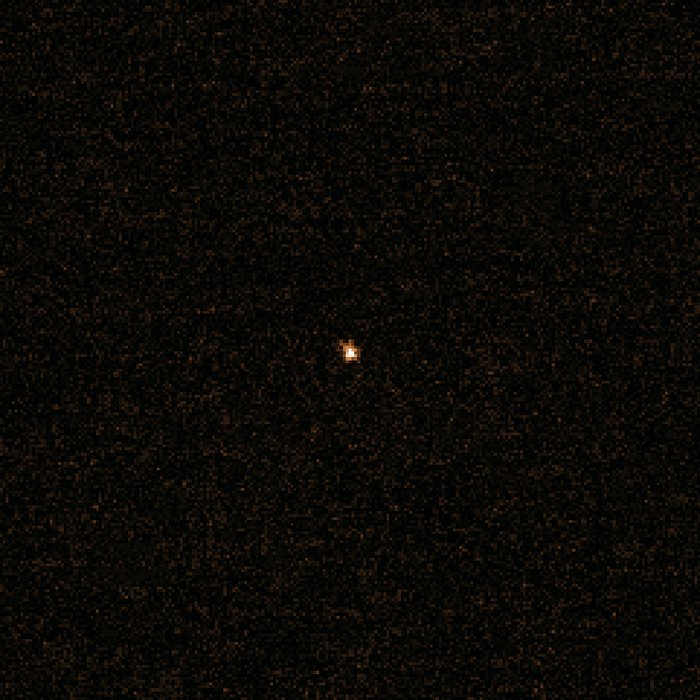 This image shows the most recent observations of 4-kilometre diameter comet 67P/Churyumov-Gerasimenko, taken on 5 October 2013 by ESO's Very Large Telescope (VLT) when the comet was around 500 million kilometres away — before it passed behind the Sun and out of view from Earth's perspective.
This image was processed to reveal the comet without any background stars. Viewed towards the centre of the Milky Way, the comet was still so far from the Sun that the icy nucleus was not releasing any gas or dust, and appears as a simple spot. As it approaches the Sun, its surface will heat up and its ices will sublimate, dragging dust out to form a tail.
The observation marks the start of a close collaboration between ESA and ESO to monitor the comet from the ground during Rosetta's encounter with 67P/CG later this year. Rosetta was launched in 2004 and aims to explore the surface of the comet, deploying a lander down onto 67P/CG to see what its surface is like.
Links
Credit:
ESO, Colin Snodgrass (Max Planck Institute for Solar System Research, Germany).
About the Image
| | |
| --- | --- |
| Id: | potw1403b |
| Type: | Observation |
| Release date: | 20 January 2014, 10:00 |
| Size: | 1000 x 1000 px |
---
About the Object
---
Image Formats
Fullsize Original
Large JPEG
381.9 KB
Screensize JPEG
308.9 KB
---
Zoomable
---
Wallpapers
---