Announcement
The Messenger No. 156 Now Available
30 June 2014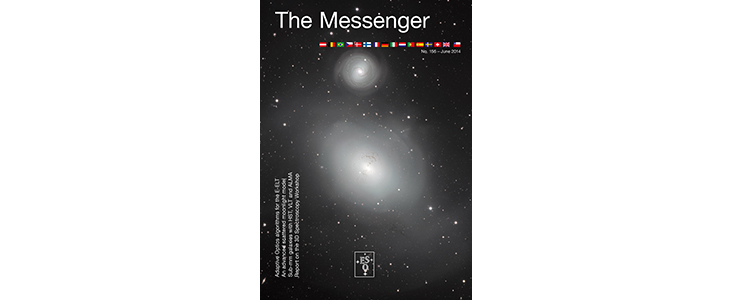 The latest edition of ESO's quarterly journal, The Messenger, is now available online. Find out the latest news from ESO on topics ranging from new instruments to the latest science discoveries.
Highlights of this edition include:
Exploring the Cold Universe at High Spectral Resolution using CRIRES+
NAOMI — a New Adaptive Optics Module for Interferometry
The Austrian in-kind contribution on Adaptive Optics for the E-ELT
ALMA resolves the disk of young starburst galaxy
LABOCA and ALMA observe of sub-millimetre galaxies in CANDELS
A report on the E-ELT workshop on exoplanets
Download The Messenger in PDF format or visit The Messenger website to subscribe and receive a free printed copy.
Links