Settlers at La Silla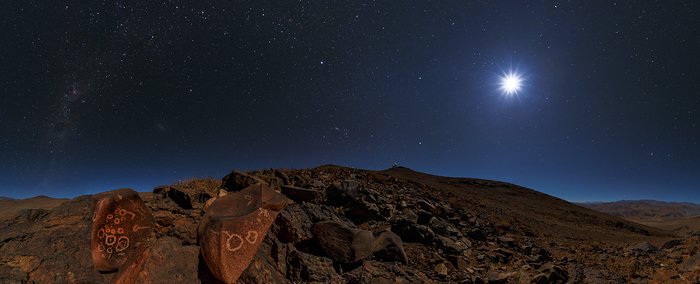 Astronomers using the ESO observatories might be a common sight in the Chilean Atacama Desert these days, but they were by no means the first people to call the area home.
Although the desert is now dry and inhospitable, it once experienced more abundant rainfall and possessed a far more diverse flora. It has hosted various human civilisations, from the El Molle culture of 700–800 CE through to the Las Ánimas (800–1200 CE) and Diaguita (1200 CE to mid-15th century) peoples. Following the 15th-century Peruvian Inca conquests, the local culture became a mix of Inca and Diaguita. This lasted until the onset of the Spanish conquest in the 1530s, which put an end to an indigenously inhabited Atacama.
Signs of this past can be found throughout the area surrounding ESO's La Silla Observatory. Numerous rocks boasting thousand-year-old carvings — petroglyphs — can be found scattered throughout the region, thought to be remnants of the El Molle complex. While some drawings depict humans and animals, usually llamas, most show abstract geometrical figures including rectangles, maze-like designs, circles, and circles with rays.
Two examples of the latter are shown here in this ESO Picture of the Week. These two stones were found at one of the richest engraving sites, located quite close to the ESO 3.6-metre telescope, visible on top of the hill in this frame. This image was taken by ESO Photo Ambassador Babak Tafreshi. An article on the various petroglyphs found around La Silla was published in ESO's quarterly journal The Messenger, following a detailed photographic and topographic survey of the rock carvings carried out in 1990.
Credit: