Wide-field view of the sky around the globular cluster 47 Tucanae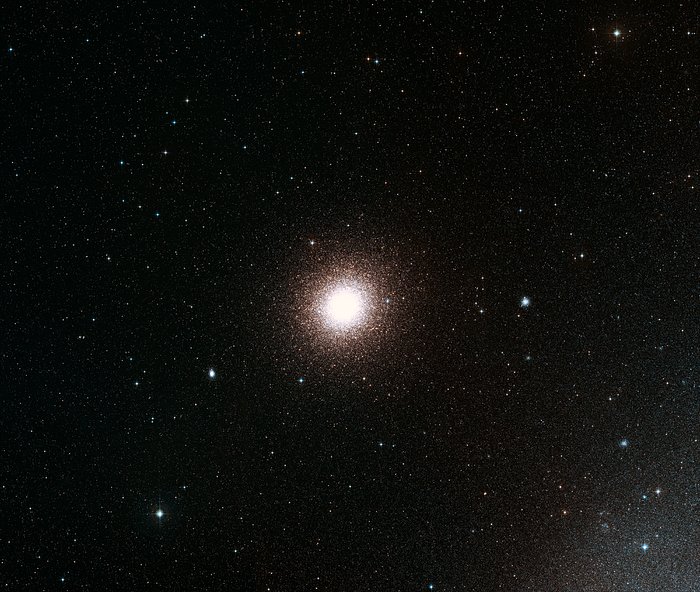 This view of 47 Tucanae covers a field of view of 2.4 x 2.8 degrees, and shows the landscape around the cluster. It is a colour composite made using exposures from the Digitized Sky Survey 2. Below and to the left of 47 Tucanae is another small, bright star cluster named NGC 121, and several other star clusters are dotted across the frame. These clusters are not Milky Way globulars like 47 Tucanae, explaining why they appear to be so much smaller.
Credit:
ESO/Digitized Sky Survey 2
Acknowledgment: Davide De Martin.
About the Image
| | |
| --- | --- |
| Id: | eso1302c |
| Type: | Observation |
| Release date: | 10 January 2013, 12:00 |
| Related releases: | eso1302 |
| Size: | 9856 x 8329 px |
---
About the Object
| | |
| --- | --- |
| Name: | NGC 104 |
| Type: | Milky Way : Star : Grouping : Cluster : Globular |
| Distance: | 15000 light years |
| Constellation: | Tucana |
| Category: | Stars |
---
Image Formats
---
Zoomable
---
Wallpapers
---
Coordinates
| | |
| --- | --- |
| Position (RA): | 0 24 5.40 |
| Position (Dec): | -72&deg 4' 53.39" |
| Field of view: | 165.56 x 139.91 arcminutes |
| Orientation: | North is 95.4° left of vertical |