Announcement
Winner of Summer AstroCamp 2019 ESO Bursary Announced
20 June 2019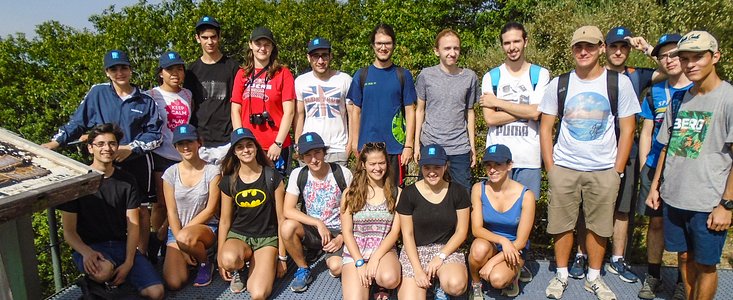 The winner of the AstroCamp 2019 bursary offered by ESO has now been selected. Overall the camp received nearly 100 applications from 18 countries, most of these applications being from ESO member countries. ESO is delighted to announce that Carolina Chinigò, an Italian student doing an International Baccalaureate in the United Kingdom, is the winner of the ESO bursary.
The ESO bursary covers the camp fee, including full-board accommodation, camp activities, internal travel to and from Porto airport, and insurance. With this bursary, ESO is delighted to provide Carolina with assistance to participate in this potentially career-defining event.
In total, 18 students aged between 15 and 18 have been invited to attend this year's summer AstroCamp: 11 girls and 7 boys, from Brazil, Germany, Italy, Poland, Portugal, Spain, Sweden and the United Kingdom.
The ESO-supported summer AstroCamp is an academic programme devoted to astronomy and physics, organised by the Centre for Astrophysics of the University of Porto (CAUP). The camp will take place from 4 to 18 August 2019 at the Centre for Environmental Education and Interpretation of the Corno de Bico Protected Landscape, in a secluded and tranquil setting away from the stresses of urban centres.
Over the two weeks of the camp, the students will take courses on relativity and on the physics of stars, galaxies and the Universe as a whole, observe the dark night skies using both the naked eye and telescopes, and connect online with astronomers and physicists from different countries. They will also complete a computational project, working with data from some of the world's best telescopes, and participate in an archaeoastronomical excavation. Social activities such as hiking, sports and film/documentary sessions will also contribute to making the camp a fun and enriching experience.
Links
Contacts
Carlos Martins
AstroCamp organiser
Email: astrocamp@astro.up.pt
Tania Johnston
ESO Supernova Coordinator
Garching bei München, Germany
Tel: +49 89 320 061 30
Email: tjohnsto@eso.org