Hubble view of the surroundings of a hidden neutron star in the Small Magellanic Cloud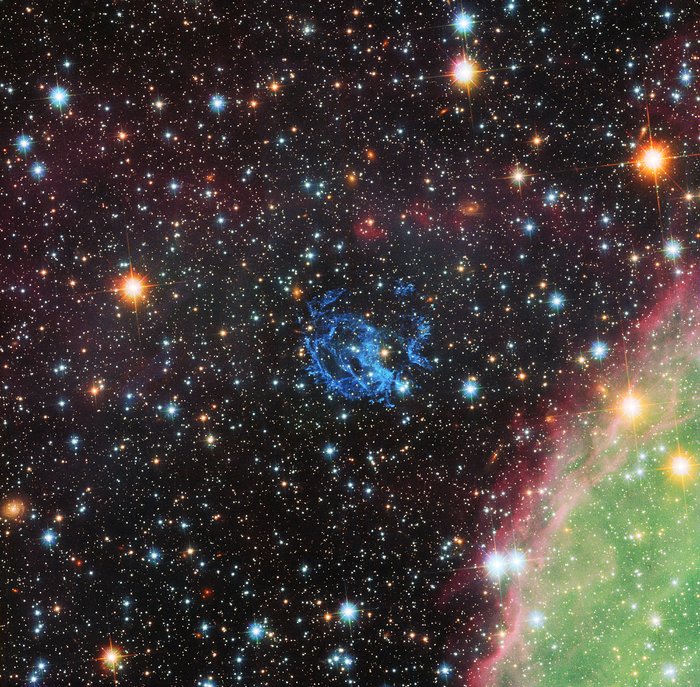 This picture from the NASA/ESA Hubble Space Telescope sets the scene for the story of the hunt for an elusive missing object hidden amid a complex tangle of gaseous filaments in one of our nearest neighbouring galaxies, the Small Magellanic Cloud.
The wisps of gas forming the supernova remnant 1E 0102.2-7219 show up in blue near the centre of the picture. Part of the massive star-forming region, N 76, also known as Henize 1956, appears at the lower right in green and pink.
Credit:
About the Image
| | |
| --- | --- |
| Id: | eso1810b |
| Type: | Observation |
| Release date: | 5 April 2018, 17:00 |
| Related releases: | eso1810 |
| Size: | 4049 x 3972 px |
---
About the Object
| | |
| --- | --- |
| Name: | 1E 0102.2-7219 |
| Type: | Local Universe : Star : Evolutionary Stage : Neutron Star |
| Constellation: | Tucana |
| Category: | Stars |
---
Image Formats
---
Zoomable
---
Wallpapers
---
Coordinates
| | |
| --- | --- |
| Position (RA): | 1 4 2.91 |
| Position (Dec): | -72&deg 1' 55.33" |
| Field of view: | 2.70 x 2.65 arcminutes |
| Orientation: | North is 2.7° left of vertical |