Announcement
Apply Now for the Summer AstroCamp 2017
Astronomy program for school students in northern Portugal
4 April 2017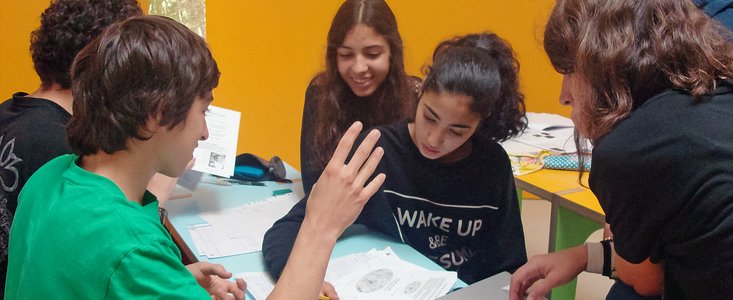 Applications are now open for the ESO-supported Summer AstroCamp 2017. AstroCamp is an academic programme in the field of astronomy and physics, stimulating curiosity and critical thinking, organised by the Centre for Astrophysics of the University of Porto (CAUP). The camp takes place from 6 to 20 August 2017, in a secluded and tranquil setting away from the stresses of urban centres. The program is intended for secondary school students from European Union countries, in one of their final three years of education before university.
Students of all backgrounds will come together and take two courses consisting of daily lessons, assignments, and a final exam. Some highlights include:
Observing the dark night skies with the naked eye and telescopes (including the Perseids meteor shower);
Skyping with astronomers and physicists from different countries;
A computational project, working with data from the world's best telescopes;
Social activities like hiking, sports, and film and documentary sessions.
Applications for the Summer AstroCamp 2017 are open until 30 April 2017. A motivation letter is required, in addition to a recommendation letter and recent academic results. Suggestions and guidelines for the contents of the application can be found on the AstroCamp website. Shortlisted candidates, selected according to their motivation and academic merit, will be invited to a Skype interview during the weekend of 27–28 May. The successful candidates will be announced around 5 June. Successful applicants will need to confirm attendance and complete the required paperwork by 14 June. The full regulations can be found on the camp website.
The best eligible applicant from one of ESO's Member States will win a bursary offered by ESO covering the camp fee (worth approximately €400, and including full-board accommodation, camp activities, internal travel to/from Porto airport, and insurance). International travel to/from Porto airport is not included.
Links
Contacts
Tania Johnston
ESO Supernova Coordinator
Tel: +49 89 320 061 30
Email: tjohnsto@eso.org
Carlos Martins
AstroCamp organiser
Email: astrocamp@astro.up.pt
Email: Carlos.Martins@astro.up.pt