Announcement
The Sky Comes Closer in Northern Chile
Inauguration of new educational activity supported by ESO
20 October 2010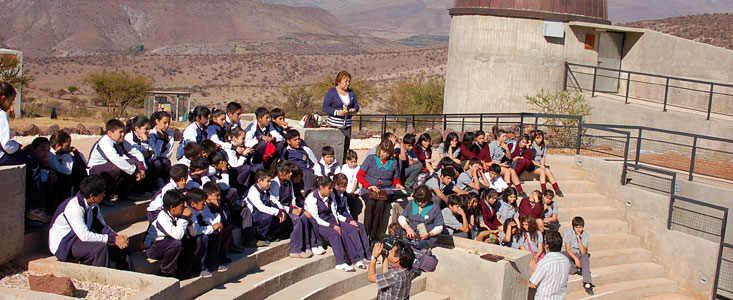 The Sky in our Hands (El Cielo en Nuestras Manos) is a new educational activity offered by the Cruz del Sur public observatory (Southern Cross Observatory), a popular tourist destination located near Combarbalá, in the Region of Coquimbo in Chile.
The activity, which is intended for primary school children, consists of a new educational video entitled Laura Estrella (Laura Star), as well as printed materials and paper models for practical workshops. In the video, a little girl named Laura dreams of a space voyage where she — guided by her mother — discovers some secrets of the Universe, from planetary motions to the shape of our own galaxy, the Milky Way.
The project also included the development of practical exercises and games, which are available from the Southern Cross Observatory.
The Sky in our Hands was supported and financed by the European Southern Observatory, through the ESO–Chilean Government Joint Committee 2009. Two other tours, entitled Chile, a Window to the Universe, and The Sun's Children, are also offered by the Southern Cross Observatory, and were supported by the same fund in 2007 and 2008 respectively.
The Sky in our Hands had a preliminary run for the 200th anniversary of the Republic of Chile in September 2010 and was officially inaugurated on 12 October 2010.
Links
More Information

Since 1998, the ESO–Government of Chile Joint Committee has financed postdoctoral fellowships and positions for astronomy professors at Chilean universities, infrastructure development, conferences, training for science teachers at primary and secondary levels and astronomy outreach programmes for the general public.
Contacts
Valentina Rodríguez
European Southern Observatory
Santiago, Chile
Tel: +56 2 4633123
Email: vrodrigu@eso.org
Lorena Díaz Salinas
Southern Cross Observatory
Combarbalá, Chile
Tel: +56 53-741854
Cel: +56 9 82596984
Email: lorenadiaz.combarbala@gmail.com