South America and ESO facility locations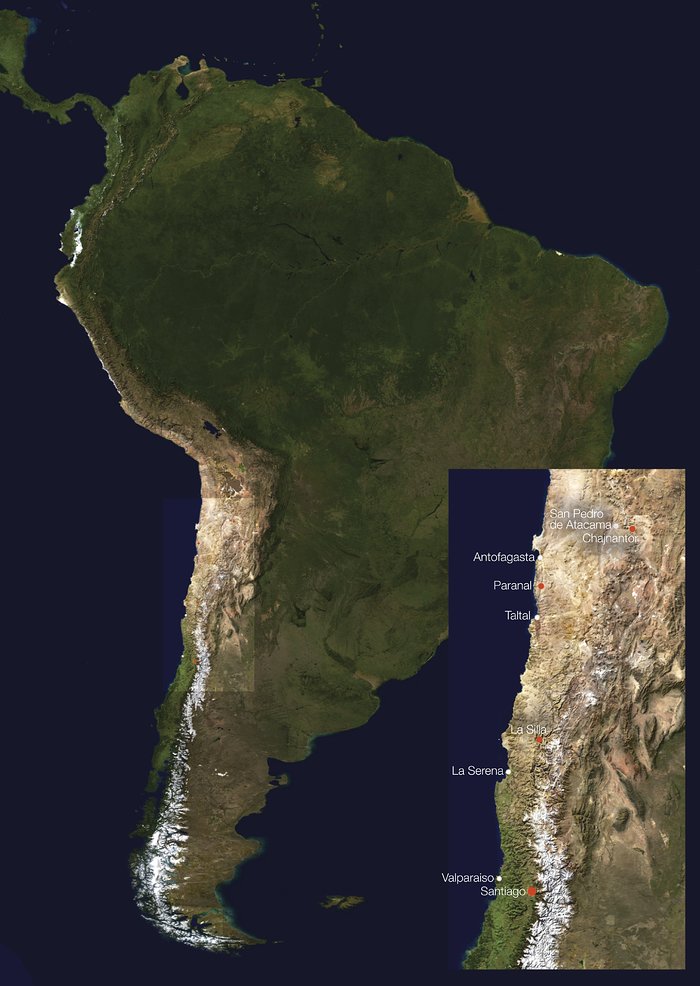 This satellite image shows the location of ESO facilities (red dots) on the continent of South America. The Andes Mountain chain rises along the western edge of the continent, stretching some 7,000 km, with many snowcapped peaks visible here. The tan, sandy-looking region below the northwestern bulge of the continent is the Atacama Desert, an extremely arid plateau that is ideal for astronomical observations. ESO has established three observational facilities there accordingly.
Chajnantor: The future site of the Atacama Large Millimeter/submillimeter Array (ALMA). The Atacama Pathfinder Experiment (APEX), a precursor to ALMA, has been in operation since 2005.
Paranal: The site of the Very Large Telescope (VLT) array, which consists of four 8.2 m Unit Telescopes (UTs) as well as four 1.2 m Auxiliary Telescopes (ATs). The telescopes can also be combined as an interferometer. Two telescopes for imaging surveys are also under construction at Paranal: the VLT Survey Telescope (VST, 2.6 m diameter) for visible light, and the Visible and Infrared Survey Telescope for Astronomy (VISTA, 4 m).
La Silla: At La Silla, ESO operates two major telescopes, which include the ESO 3.6-metre telescope and the 3.58-metre New Technology Telescope (NTT).
Santiago: ESO scientists working in Chile are aided in their cutting-edge research by the ESO offices in Santiago. The facilities include a well-equipped library and computing resources, as well as offering programmes for visiting scientists and a lively scientific environment.
Credit:
About the Image
| | |
| --- | --- |
| Id: | chile_map |
| Type: | Chart |
| Release date: | 3 December 2009, 23:18 |
| Size: | 3543 x 4989 px |
---
About the Object
---
Image Formats
---
Wallpapers
---
Also see our
---